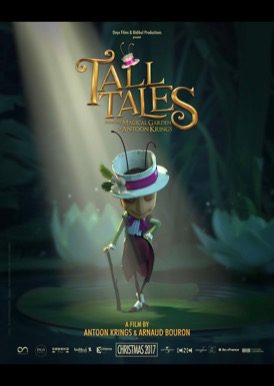 Tall Tales
A film by Antoon Krings, 2017
-
Genre: Animation
Languages: Luxembourg ou Français ou  Anglais
Format: xxx
Sound: xxx
Duration: 77 min
Countries: Luxembourg, France,
Year: 2017
CREDITS
-
A film by Antoon Krings and Arnaud Bouron
Based on best-seller by Antoon Krings (Gallimard Jeunesse)
Screenplay by Arnaud Delalande, Antoon Krings and Christel Gonnard
Produced by Bidibul and Method Animation.
Distribution Luxembourg : Tarantula Distribution
International sales : PGS Entertainment.
DIRECTOR
-
Born in 1962 to Danish-French parents, Antoon Krings drew and painted from his early age. After graphic arts studies at the ESAG in Paris and some experience in the field of fashion, he decided to start a carrier in illustration. Antoon Krings is at the head of the book collection "Drôles de Petites Bêtes". This collection, very appreciated by the readers and the profession, is mentioned in the reference book for children's literature "1001 Children's Books you must read before you grow up". In 2010 he received the prize for the best illustrator at the 22nd Comics Festival of Sollies. In 2013 he started a new collection, "Lou p'tit loup".
Arnaud Bouron is a French director and illustrator. After graduating in 1997 from ESAG in Paris, he started working as an art director for video games and taught at ESAG. He then turned to animation directing the TV series "Cosmic Robbie" in 2006 and adapting "Le Petit Nicolas" into an animated series which won the Jury Award at the 2011 Annecy International Animated Film Festival.