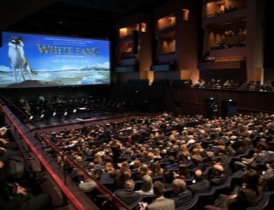 Sneak preview of "Croc-Blanc" at the Philharmonie, a great success for Tarantula Distribution!
-
On March 9, Bidibul Productions and Tarantula Distribution were inviting a great number of spectators to an exceptionnal ciné-concert for the prerelease of the film White Fang directed by Alexandre Espigares. The screening occured in the biggest venue of the Philharmonie, along with the score music created by the composer Bruno Coulais and interpreted by the philharmonique Orchestra of Luxembourg directe by Gast Waltzing.
Pictures of the event here.
VIDEO
-

Warning: Use of undefined constant video_1 - assumed 'video_1' (this will throw an Error in a future version of PHP) in /home/clients/21fad922ace3ab443932632f2260693a/web/wp-content/themes/tarantula/single-new.php on line 56