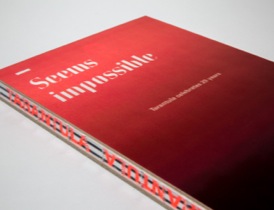 A book to celebrate 20 years of Tarantula!
-
To clore this year of anniversary, Tarantula Luxembourg has brought out a 160-page publication including no less than 270 photographs that tell the story of our team over the 20 years of existence. The photographs in the book entitled "Seems impossible. Let's do it!" present memories of shootings and festivals, to help relive some great events of the past 20 years, as well as looking at the future of Tarantula, the film industry in Luxembourg on entrepreneurship in general.
Seems impossible. Let's do it ! Available for sale online, 160 pages, 30€.
VIDEO
-

Warning: Use of undefined constant video_1 - assumed 'video_1' (this will throw an Error in a future version of PHP) in /home/clients/21fad922ace3ab443932632f2260693a/web/wp-content/themes/tarantula/single-new.php on line 56